We've all learned how to deliver events and content digitally and there have been some very welcome developments in doing so. The pandemic of the past year and a half has given Event Planners and Suppliers the opportunity to learn a new way to engage and with the return of live conferences and events, better options exist for their Audience.
A Hybrid event is simply a conference, seminar, or other event that is delivering both in-person and online digital experiences. They don't necessarily have to include all the same content and there are many different ways to do one. Inherently Hybrid events also can better deliver better reach, Improved ROI and Data than in person events.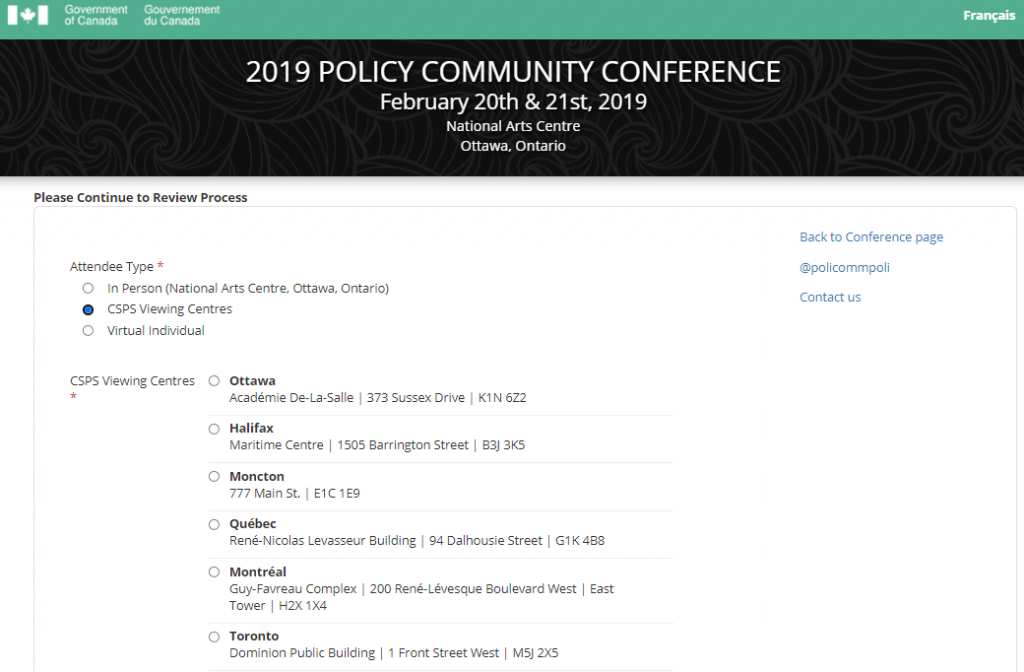 A case study: The Multi Location Hybrid Event
8 regional locations for delegates to select from
Online and in person viewing options
MyConferenceSuite has been working with a government client delivering a hybrid multi location event for a number of years, predating all the events surrounding covid. The model was very simple-a multi regional conference in 8 locations across Canada with some live and some online sessions. Speaker 1 could be in New Brunswick delivering live while audiences in Ottawa and Vancouver watched on screen. Speaker 2 from Ottawa, Speaker 3 from Vancouver etc… Some sessions were in person, some were onscreen. Some audience members were online only. This model delivers several advantages and efficiencies to both event organizers and delegates. For the delegate, they receive more choice in how, when and where they get their content. For the organizer, they offer more opportunity to engage a larger audience by providing more choice. Certainly, there are more challenges in working with multiple venues, but in this era of restricted travel, coupled with demand to meet in person, the Multi Location Hybrid event is an optimal solution.
Some great tips to consider:
Recording Sessions
A more simple way to deliver a hybrid model would be to host an in person event and simply record sessions for a) livestreaming or b)eLearning options for your delegates. Most virtual events are selling recorded content after the event. Offering a video library of education from your conference for sale as individual sessions is a great way to Maximize the return on your virtual or hybrid event.
Sponsor Engagement
Tradeshows work well in person but they don't always translate well online. Engaging your sponsors in a better way is almost a requirement for virtual and hybrid events. The best ways we've seen clients engage sponsors are more than just providing a virtual booth but also allowing them to introduce session content or to weave them into the plenary program in short but effective means. Sponsors want exposure and there is no better way to give that to them than through engagement with the conference program
Segment Specific Experiences
There are no rules in delivering content virtually and in person. And that extends to content. Many conferences have different attendee type and different session content. Some of these groups have different needs and as such, some content is better delivered virtually while other content is better in person. Consider how your audience wants to view certain segments of your content and consider offering one type virtually and another in person
Pricing Models
One of the biggest factors in a successful conference is your budget. Delivering Hybrid conferences can really present a true view of associated costs. As event organizers, you want to maximize your return on the event and as such, need to consider these service delivery costs when creating your pricing. Consider an in person ticket type, a virtual ticket type and an option to experience both. Many delegates will jump at the opportunity to view concurrent sessions online after seeing only 1 in person. This choice benefits the delegate but it can create revenue opportunity for the event organizer.
Marketing
Expand your reach by creating digital snippets of conference content to use as marketing material-displayed to social networks. This is a great way to expand the impact your content can have. Livestream a snip of your keynote to Facebook Live so everyone knows what it is they are missing.
Your Virtual Portal is now your community Hub
One of the most exciting prospects of the virtual event portal, like myConferenceSuite's is the ability to create a 365 day a year hub for your audience. Social Feeds, Chat groups, even networking sessions can be run 365 days a year on the backdrop of your annual conference portal and content. The elements of time can be completely removed and the opportunities to better use your virtual portal exist when you consider the possibilities it can provide!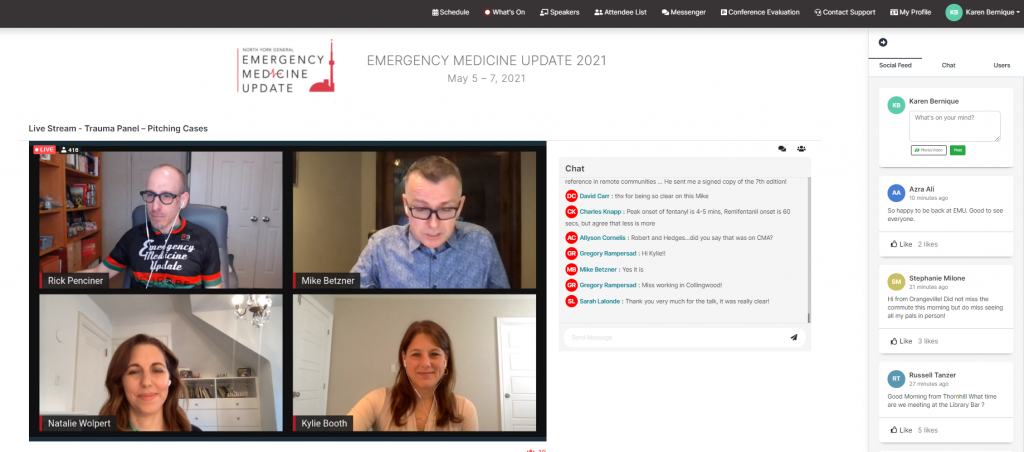 The technology to put it all together
All of these virtual and hybrid event concepts sound fantastic but the technology needs to be there to support you in implementing these great ideas. At myconferenceSuite we are working to constantly deliver the software and hardware solutions you need to deliver a great hybrid solution. This tech includes:
Our Virtual Portal-a great spot for delegates to engage and learn online
Our Event App-delivering the connection between your online and in person Audience
Eposters-Present your research in person with our iKiosk solutions and online using our interactive eposter module
Video Production-at myConferenceSutie we can deliver your livestream and recorded content and assist with video production. We also engage our network of partners to ensure quality webcasting, recording, simultaneous interpretation is available.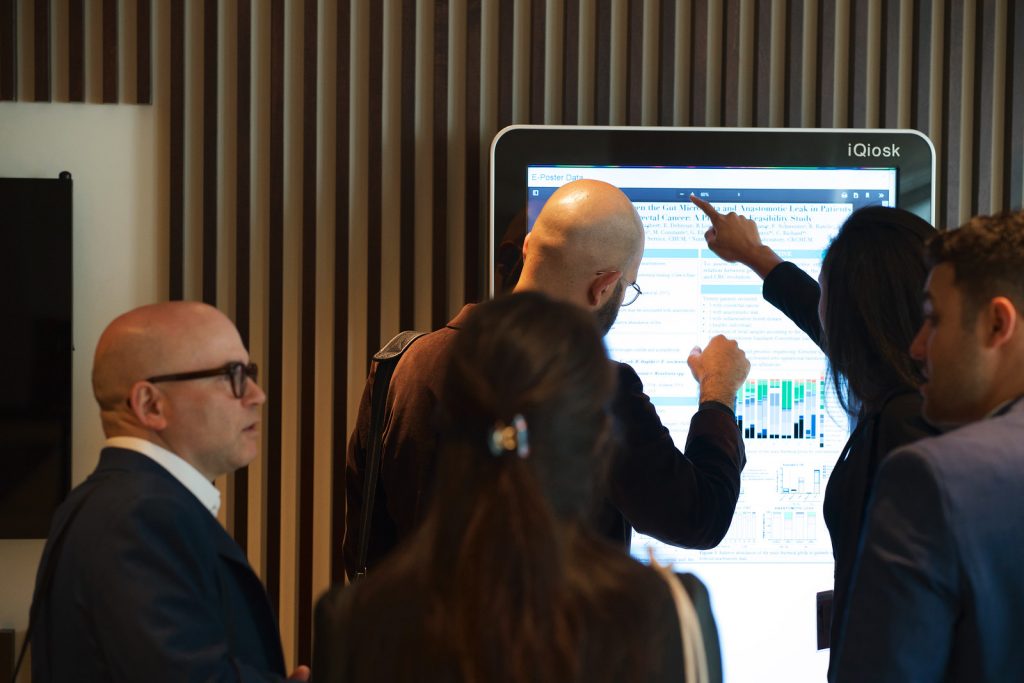 Digital is here to stay.  Delivering your content and engaging with your audience through various mediums will be the norm.  Digital experiences will continue to grow into the future and offering that choice via hybrid events is just one way to ensure you are achieving the reach you need to connect with your audience.