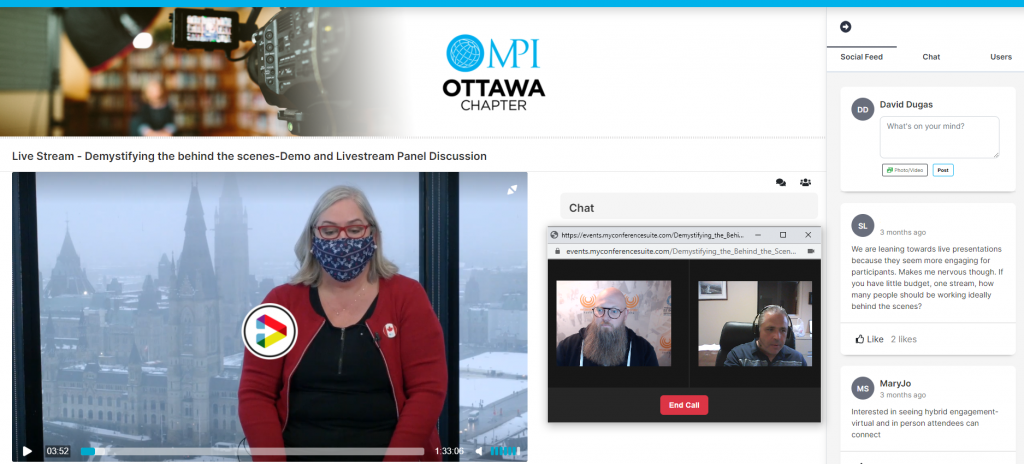 myConferenceSuite's Virtual Portal has added 2 great features to the mix. 1-1 Video chat allows participants in the video portal to private video chat with one another while simultaneously watching a video stream. Keynote or Session. Its like sitting next to your favourite colleague at a conference and watching the keynote together. In addition to video chat, myConferenceSuite also added regular private chat functionality to compliment the group chat feature on the streaming pages.
In order to initiate a private video chat while watching a livestream with a large audience, simply search for the user by clicking the users tab, then selecting either the Speech Balloon icon next to the person you want to share a written chat with or select the camera icon to initiate a private Video chat with the user. The video chat will open a separate window which can allow you to use simultaneously while watching the livestream in another browser window. The 1-1 Video chat really allows for spontaneous conversations within the virtual portal and is a feature that the team at myConferenceSuite is very excited to be sharing in this most recent software release.
Looking ahead the dev team will be adding more functionality and more features to the portal with a keen eye on creating a digital experience to compliment live events in addition to offering a virtual alternative.